Imagine preparing a romantic dinner and setting a beautiful table with your best china. You've lit scented candles. The aroma of a perfectly cooked meal fills the air.
But something isn't right. There's an awful smell coming from the kitchen sink and it's wafting into the dining room. You realize it's that stinky garbage disposal. The ambiance is ruined. Don't worry — that less-than-pleasant odor emerging from your garbage disposal isn't permanent. With the right ingredients, you can get rid of the smell before your dinner guest arrives. Try these easy tips to freshen your smelly garbage disposal. 
Start with a Good Soak
Before scrubbing or deodorizing, put the stopper in the sink and run the water to fill the basin with a few inches of hot water. Add a generous squirt of dish soap. Remove the stopper and turn the disposal on. As the water flushes through it should take with it any pieces of food and debris hanging out in the disposal. Hint: You might want to do this again after you've deodorized, which we'll talk about next. 
Clean the Disposal Drain
You can buy products designed to freshen your garbage disposal, but you can also save money and go the DIY route. All you need is baking soda, white distilled vinegar, and hot water. First, pour a ½ cup of baking soda into the drain. Add 1 cup of vinegar. Some people swear by heating the vinegar, which you can do in the microwave, but it's not necessary. If you enjoy a little entertainment, watch the vinegar and baking soda foam. Let the mixture sit while you make a cup of tea. Come back and run hot, but not boiling water down the disposal and flush while running the disposal. 
Go Natural with Citrus
If the disposal is free of slimy buildup, you can use citrus peels to freshen things up. Citrus oils add a splash of fragrance. They don't do a great job of cleaning, but if you've run hot soapy water followed by the vinegar and baking soda bath, the disposal should be clean. Now you can help it smell better. You can use lemon or lime peels cut into small pieces. Drop them into the disposal and flush with cool water. If you prefer, you can use an orange or grapefruit peel. Just make sure you don't use large chunks. 
Wipe Down the Splash Guard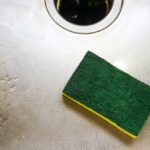 An area many people forget or deliberately avoid is the splash guard. It can get nasty with slime and gunk that accumulates on the underside. All that gunk causes an ugly stench and harbors germs. Grab your rubber gloves, an old toothbrush, and a bucket of hot soapy water for this job. If you have a removable splash guard, the job is easy. All you do is take it out, scrub it thoroughly, and rinse. The non-removable splash guard is a bit more challenging. First, scrub the top portion and rinse. Next, scrub the underside of each section of the splash guard. Scrub until you can't see any more gunk or slime. Rinse. Voilà! You now have a sweet-smelling garbage disposal.
For more plumbing tips and for all repair and service needs, call The Pink Plumber right away!