Residential & Commercial Sewer Line Repair in Clearwater
If you're having issues with your sewer system, don't rely on just any plumber in Clearwater. It takes special skill and experience, to handle the types of problems that commonly arise with sewer lines and drains. Here at The Pink Plumber in Clearwater, we have sewer line repair experts on staff, ready to handle even the toughest jobs. We have the right equipment and industry training, to repair or replace sewer system components, to keep your home or business clean, efficient, and sanitary.
Our team of Clearwater sewer line repair technicians have over 50 years of combined experience, and we've seen it all, when it comes to plumbing problems. Thanks to our hard-earned knowledge, we can offer lasting solutions to sewer system issues, and get the job done quickly too. Sewer-related leaks, clogs, or other malfunctions can do serious damage to your property, and should be addressed immediately. You can count on The Pink Plumber to help you get back to your life in no time.

Sewer backup or leakage is no match for our professional plumbers, so if you suspect a problem, reach out to us right away. One of our friendly technicians will schedule the next available appointment, often in the same day. When you need blocked drain cleaning and sewer line repair in Clearwater, call on The Pink Plumber!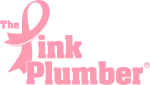 Special Offers
$59 Off Any Plumbing Service
Valid off any job $200 or more.